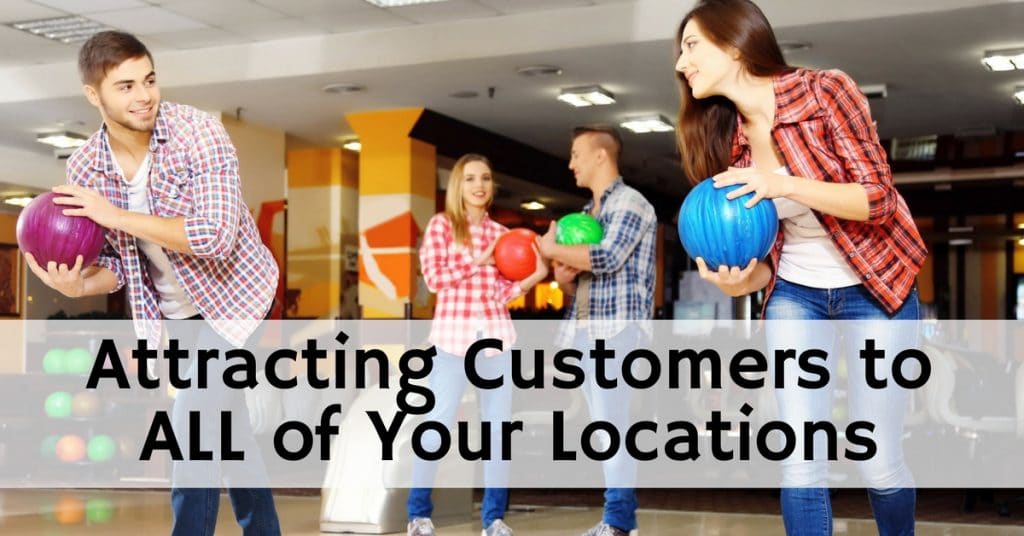 Unlike single location family entertainment centers, multi-location and franchises have a variety of options when it comes to setting up their websites.
Should each location have their own URL, subdomain versus sub directory (atlanta.example.com versus example.com/atlanta), and should each location have the same look and feel? The choice you make can play a major role in your search engine optimization, brand control, development and maintenance costs, and brand visibility. That's a lot of pressure for just a website, right!?
A Quick Guide for Most Multi-Location Entertainment Centers and Parks
There are always exceptions to the rules, but most multi-location family entertainment centers and amusement parks should be able to use this advice to at least begin their website development project.
Do your locations share branding?
If yes, then a single website with pages for each location will probably be the best option. Multiple sites are more difficult to control when it comes to branding, security, optimization, and general upkeep. It will also make it easier for loyal customers to find other locations in cities while they vacation.
Should your websites be on a subdomain or a subfolder?
Bear with me, because this will be a little technical. A subdomain looks like atlanta.exmaple.com. FECs will use subdomains so that a location gets their very own URL. It can be useful for branding purposes. However, it comes at a cost. Subdomains are treated by Google as separate domains. This means that all of the SEO work that goes into your main domain or other subdomains will not pass through to each other. You end up duplicating efforts and missing out on opportunities.
We recommend a subfolder. These look like example.com/atlanta. With this structure, you're using one site for your brand, and each location will have a pages within that same site. The search engine optimization benefits for a subfolder structure for you site will make your GMs and franchisees extremely happy.
Keep your content on one domain by using subfolders.
Is a content management system (CMS) right for you?
In a nutshell, a content management system allows administrators of websites to manage their content from a dashboard created by software rather than having to type out code. This typically provides businesses with the opportunity to update many portions of their site without needing to know how to code. Popular CMS used by family entertainment centers and amusement parks include WordPress (the most popular CMS in the world), Expression Engine, Joomla, and Drupal.
WordPress continues to grow in popularity, as some of the biggest sites in the world rely on their software, but Expression Engine is growing as well. We typically point multi-location FECs to WordPress, but have found Expression Engine to be the right solution in certain situations as well. If you're not sure which is right for you, just ask!
Website Structure: What's most important?
An odd request that we often receive when designing FEC websites is to not include the address or phone number throughout the website. When we analyze search queries for FECs, driving directions and a phone number are often the most popular reasons for website visits.
It's easy to get lost in the details of color pallets, animation, and aesthetics over general usability. Remember to think like a consumer, and worry about the site flow and structure first before consider which images you're going to use to spice it up.
Making the Final Design Work for Your FEC or Amusement Park
A beautiful and functional design are important, but don't forget that you must make the site easily found by potential customers to make sense of the money invested in your site(s). Ensuring that you include a web presence strategy that includes social media, search engine optimization (SEO), and paid advertising will help drive potential customers to your multi-location family entertainment center or amusement park.
Did you find value in this post? Please share or contact us today to learn more about setting your multi-location entertainment business up for success online.