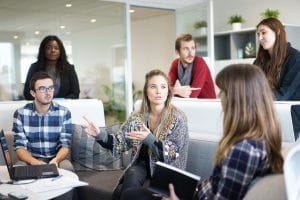 We are a digital marketing agency in Atlanta, GA devoted to helping skating rinks stay alive in a dominant online world. We help roller rinks in small towns and big cities; new skating rinks and family-owned businesses who have existed for 30+ years. We have clients right here in Atlanta, clients in Oklahoma, and clients everywhere else in the US. We'll take a deep dive into your brand and examine your market, looking at your competitors and ideal audience. Then we'll come up with a strategic marketing plan for your specific roller rink to get visibility online.
Since we specialize in digital marketing for family entertainment centers around the country, we are experts in providing marketing for skating rinks. Depending on your location and business needs, we may run a PPC (pay-per-click) ads campaign on Google. We may run Facebook ads and remarket to users who have previously visited your page. We'll measure analytics and traffic on your roller rink website and locate conversion drop-offs in your sales funnel. Don't have a website yet? Don't worry, we can help with that too! We'll optimize your website for the web and ensure it shows up in search results.
Digital marketing is necessary for family entertainment centers in today's digital age. It has been proven to help roller rinks increase foot traffic and party bookings – just take a look at our case studies!
When choosing someone to handle your roller rink digital marketing, it's important to work with someone who is familiar with the family entertainment center niche. What works for some industries may not work for others – that's where TrustWorkz comes in. Contact us today to learn more about how we can manage your digital marketing.
Want to learn how to book more birthday parties at your skating rink? Read our latest blog post here!