Why are reviews important for your business and your customers?
In this day and age, everyone and everything is online. If you're looking for a fun new spot to host a girls' night or take the family bowling, what's your first move? Most likely you're going to search Google for what you're looking for and read the reviews, right?
How to Make Google Reviews Work for You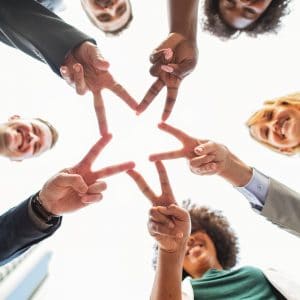 If you're a business owner you KNOW how important having a high star rating is. A great way to achieve this is to solicit reviews and keep your online presence alive by interacting with customers who leave reviews. Responding to all reviews — yes, even the bad ones — is incredibly important! Many customers trust businesses who respond thoughtfully to bad reviews more than businesses that have only good reviews in the first place.
Thankfully TrustWorkz will take care of the dirty work for you. We have an experienced team of reputation management specialists who care about your business and your customer base. We learn the tone of your business and reflect that into our review responses, so every interaction with customers sounds like you.
Do Reviews Really Matter?
Google takes your business rating and the quality of reviews into consideration with their ranking system. According to the search engine's reps, "Google review count and score are factored into local search ranking: more reviews and positive ratings will probably improve a business's local ranking." They also say, "High-quality, positive reviews from your customers will improve your business's visibility and increase the likelihood that a potential customer will visit your location." Basically, in order to rank high on Google, you need reviews.
Reviews Build Better Business Reputations
Reputation management is also important for business organizations. A business with a great reputation has an advantage over their competition. A great reputation helps secure a loyal customer base. It can also attract new customers who judge a company based on its reputation in the industry as well as in the community. Who doesn't do a quick Google search before trying somewhere new? And today, the easiest way to build credibility is through online reviews. Sounds like a win-win, right?
Reputation management should be an important part of any business, especially yours. Managing your online reviews is a huge part of keeping your reputation alive and thriving. Customer-oriented businesses with an online presence should care about what customers say on Google and social media. With the help of TrustWorkz and our Reputation Management Package, we can monitor, respond to, and solicit new online reviews for you.
Let happy customers speak for you. Contact TrustWorkz for help today!