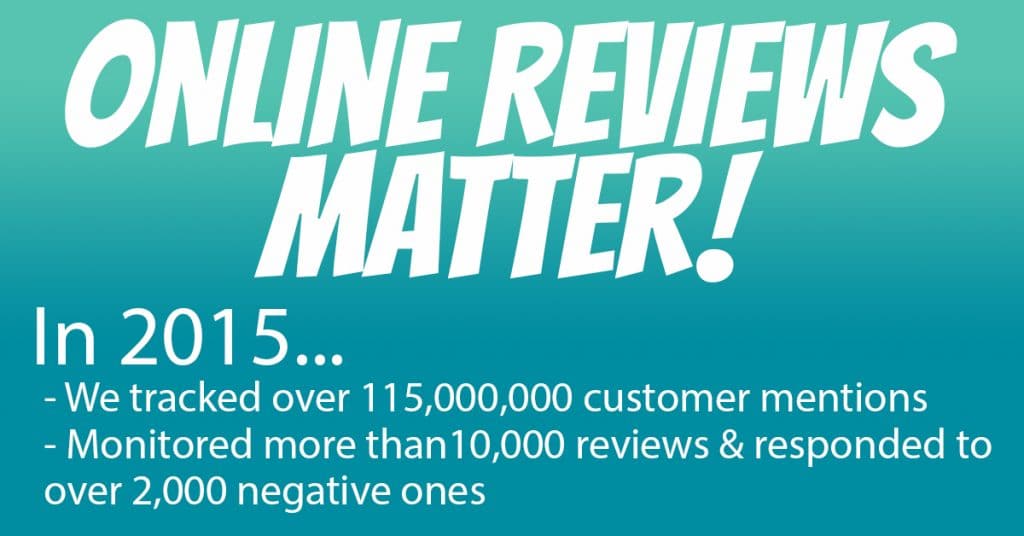 When we tell people that we provide Internet marketing services, they often just think about the advertising that goes into marketing. However, we take a comprehensive approach to your web presence, and that includes reputation management.
After reviewing our FEC and Amusement Park marketing survey, it's clear that reputation management is dead last when it comes to marketing priorities. You would think that this might be the exact opposite for an industry that attracts millions of visitors from all over the world. Would it make sense for a restaurant to not worry about their Yelp reviews? What if a hotel ignored complaints on Tripadvisor?
We felt so strongly that every small business (trampoline park, roller skating center, bowling center, bounce house center) required reputation management that we spent 2015 converting over half of our customers to the service. Since making the change this year, we have tracked over 10,000 online reviews and responded to over 2,000 negative reviews. Our Web Operatives have been responsible for monitoring over 54 million Facebook check ins and 115 million brand mentions for our customers using the service. As of 2015, we have refused to write a contract without the service.
10 Online Review Stats to Make You Take Reputation Management Seriously
9 of 10 customers have read online reviews to determine the quality of a local business. – BrightLocal
90% of customers say their buying decisions are influenced by online reviews. – Zendesk
Customers are 58% more likely to tell others about their customer services experiences today than they were 5 years ago. – Zendesk
88% of consumers say they trust online reviews as much as personal recommendations. – BrightLocal
Customers are likely to spend 31% more on a business with "excellent" reviews. – Invesp
A bad review or two can actually be good. Businesses with 10-30% negative reviews will received 10x more leads than businesses that appear perfect. Consumers trust businesses that have good and bad reviews. – Entrepreneur
If you messed up, make it right. When potential customers see a brand respond publicly offer to fix the issue to an angry customer, they were 92% more likely to purchase than those who never saw a response to a bad review. – BazaarVoice
Customers spend less time reading reviews now. For 40% of consumers, they read just 1-3 reviews before forming an opinion about your brand. – BrightLocal
Most consumers visit the company's website after reading reviews. Only 9% will actually call you, which is another reason to make it easy for your customers to connect with you or make a purchase. – BrightLocal
Beyond reviews: Your listings matter too! 75% of consumers are more likely to visit a local business when local information like phone number, pricing, and hours are accurate and available. Make sure your listings and website are up-to-date! – Think with Google