The team here at TrustWorkz is working hard to keep our team, company and image – fresh, innovative and always evolving. Today, we are giving a round-up of all the new things going on at TrustWorkz – from new positions, services and logo changes! We are so excited and hope you are as well!
TrustWorkz Appoints New CEO, Kevin Ekmark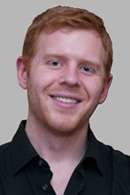 TrustWorkz, Inc is pleased to announce the recent appointment of Kevin Ekmark as President and CEO. Kevin previously held the position of Chief Operations Officer, where he developed key service packages, website development and service processes, and reporting standards. In addition to Kevin's operational and marketing experience with TrustWorkz, he is also an original founding owner of the company.
Kevin's experience outside of TrustWorkz includes management level Internet marketing for a Fortune 500 company and scaling with one of the largest content marketing agencies in the country.
"I am extremely humbled and thrilled by my recent promotion to President and CEO of TrustWorkz, Inc. Our core objective is to continue delivering amazing results for our clients at an affordable rate. As the new President and CEO, I'm excited to take on the responsibility of guiding TrustWorkz to the next level, where we hope to make an impact in thousands communities across the country. Thank you for your continued support as we charge ahead to deliver the best web presence and content marketing services in the industry. " – Kevin Ekmark, CEO
#TrustyTips Series
Is your "upcoming events" section filled with outdated information? Make sure that you update the old information or remove it ASAP! Visitors to your website judge your company based on the content of your website. Make sure time specific sections are updated. If you aren't actively using the section, it's best to just remove it. Want more helpful tips? Check out our most recent #TrustyTips Blog Post.
New Services Offered
In order to better serve our clients and keep them ahead of the curve,TrustWorkz is continuing to add new services to our repertoire. This month, we want to share news that we became Certified Yext Partners in early 2014. We are now able to offer the complete Powerlistings package offered by Yext within our TrustWorkz marketing packages. This includes local listing services (SuperPages, Merchant Circle, Yahoo Local) and reputation management services, allowing you to control how your business appears on over 50 other popular listing websites and mobile apps. Learn more about our new local listing services and their benefits by clicking HERE.
Logo Revamp
After taking some advice from our #TrustyTips section, we decided to do some spring cleaning as well and revamp our logo >>
Connect With Us!
We are social media obsessed! We would love for you to connect with us on ALL of our social platforms – Facebook, Twitter, Google+,Instagram, and Linkedin!